Trillium, my favourite Michigan wildflower. I love it because it masses the floor of the woodlands in a carpet of white. In England its the Bluebell for me, but here its the Trillium. It tells me Spring is here. There are many more spectacular flowers here but this one is it.
These are in my garden, after a rain shower. We dont really get showers here, not like in England. In England you can be out on a clear day and all of a sudden a quick downpour....that's a shower. Here is simply rains. Well, when the sun came out I took these pictures.
I have several other wildflowers growing in my garden. They came and went quite quickly but the Trillium took awhile to show their faces.
The man across the ally is growing tulips. Mine are not out yet but his are in full sun. They will come and go quickly while mine take their time.
Periwinkles again, so pretty, had to show them again
This little guy came to visit and brought his family. He is a sparrow of sorts, a White Crowned Sparrow. His coat is a lovely soft blue grey. A little beauty.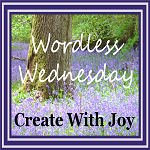 I am sharing this with
Our World Tuesday